For permanent repairs of potholes and/or wearing course
unravelling on all road classes
Final repair of small surface damages due to cable
trenching, manhole maintenance, hydrants etc.
Ramps for temporary driveways
Can be used in all weather conditions – even when wet –
and at ambient temperatures ranging from

+ 60°

to

– 40°

C
Can be topped with hot rolled asphalt
mmediately trafficable (without point or turn load)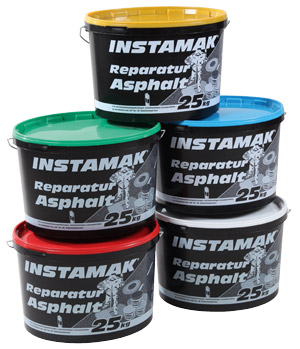 Are ready-to-use asphalt mixes for repair of asphalt and concrete surfaces. They can be used all year round and in any weather (even in rain) directly from the 25kg-bucket. Drying or priming of the repair area is not necessary.
High-quality mineral aggregates acc. EN 13043 as well as a blend of bitumen, special adhesives and additives guarantees permanent repairs of damaged areas on roads of all classes acc. to RStO.

Are available in  0/3, 0/5, 0/8, 0/11 and 0/16 mm grades and upon request also in burgundy red, for use on coloured cycle paths.
Shelf life is 12 months from date of delivery – opened buckets can be used weeks later. Simply close the bucket firmly. Frost free storage is not required.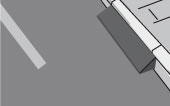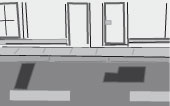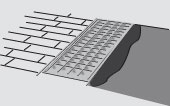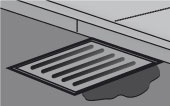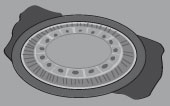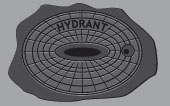 See our product and safety data sheets (only in German on the German pages) for further
information or arrange for a non-committal visit of one of our sales engineers in your area.
Minimum layer recommendations
grain    0/3    (bucket lid white min. 10 mm bis 25 mm
grain    0/5    (bucket lid red) min. 15 mm bis 35 mm
grain    0/8    (bucket lid green) min. 25 mm bis 50 mm
grain    0/11    (bucket lid blue) min. 35 mm bis 80 mm
grain    0/16    (bucket lid yellow) min. 50 mm bis 100 mm
Packaging
PE-buckets of  approx. 25 kg
24 buckets on an exchangeable Euro-pallet approx. 600 kg
Guaranteed acceptance of returned empty buckets free of charge acc. to § 6.3 packaging regulation, nationwide at any RIGK-station (Germany only)